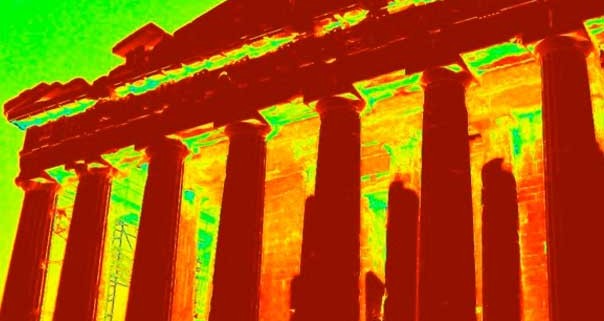 There is an interesting phenomenon running through the European Union: politics is becoming increasingly more like POP-Art. No-one (neither politicians nor journalists and thus voters) would have listened to POPulists when times were economically strong and politically stable. In these days of social media, however, they are being built up to be POP stars.

Actions such as EC President Jean Claude Juncker and the new Greek Prime Minister Alexis Tsipras holding hands are just as symbolically loaded as the fact that Greece's new Finance Minister flew economy class to Brussels (which, incidentally, is not all that rare among European Finance Ministers). And these actions are being deliberately portrayed like this for that very reason.
Debt cut – just because
And the substance? The political demands? They are watered down, the so-called "radical left" made noises in Greece against the Troika and the EU, to break into their first direct confrontations on the grounds of the unrealistic demands. The Greek Finance Minister Varoufakis, the new "star" of the European left, is calling for a further debt cut, without mentioning that the previous one has already cost European banks and institutional investors 105 billion Euro, and thus not only the people of Greece but also the people of Europe were directly affected. In commentaries, this very populist line of argument by Varoufakis is accepted without criticism – partly because of consciously controlled subjectification of the substance, partly because of ignorance of the topic.
Equal treatment or preferential treatment?
Greece owes 320 billion Euro, 80% to public institutions such as the ECB, various bail-out packages and even individual countries. This is the money of the European taxpayer which is at stake here and, if it is not repaid, it would cause drastic disadvantages – for budget consolidation by other countries and thus their tax ratios. Nor should the implications for other crisis countries be underestimated either: Spain, Portugal, Ireland and now France as well must solve their fiscal consolidation problems. Without compromises. These countries have managed, or have to manage, without making use of haircuts.
The boundaries between left and right populism visibly disappear in the criticism of the established political systems. The anti-system is striking back at the system, so as to quickly leave behind the aggressive anti-system campaign talk, out of disillusionment, in the event of the system coming into being.
Pablo Iglesias in Spain, who even now sees his anti-system movement "Podemos" (name of a South American farm workers' community) as winner in the Spanish parliamentary elections, is promising a new political style, direct party-internal democracy over the internet, similar to the agenda of the Pirate Party. He is also demanding political transparency, which is indeed something severely lacking in Spain.
Iglesias (whose appearance is more like the Messiah than a pop star) stands above all for what at first sight are classic left-wing demands – restrictions on the power of the financial sector, wealth tax, extending social security, nationalisation of the energy giants – and for green core objectives: environmental protection, renewable energies, organic farming.
His arguments are strictly rational, he has his facts and details in his head and at the same time he uses simple language. This is how Iglesias is receiving a positive response even among groups of voters who had no thoughts of left-wing ideology, but who are tired of the established major parties, since they are regarded as politically incompetent and virtually universally corrupt. He can thank social networks and their viral marketing of his ideas for his success at the EU elections in May with 5 seats. But is he capable of governing?
There is something else to consider: while the EU Commission is itself involved in these populist demonstrations of power, and shows that it is willing to compromise, so as to distract from shortcomings in its own country as well (Juncker, LuxLeaks), the EU-Parliament under its president Martin Schulz is trying to support the line of Angela Merkel and Wolfgang Schäuble. The new EU Commission has shown a major political weakness in all conflicts since it took office. European domestic policy or respectively its foreign policy are made by Germany in changing partnership configurations.
So nationalist partly chauvinistic politics ahead of the common interest of European policy? Angela Merkel as POP-Star of austerity? Angela Merkel as peacemaker? And above all, if the government of Europe's largest national economy takes over the work of the EU Commission, who is then going to look after German domestic policy? Vice-Chancellor Gabriel? Or is it after all the opportunity for parties such as the conservative Eurosceptic AfD or a new de-radicalised Pegida movement.
"But I always say, one's company, two's a crowd, and three's a party", Andy Warhol, POP artist
https://ninahoppe.eu/wp-content/uploads/2015/02/akropolis.jpg
625
604
Nina Hoppe
https://ninahoppe.eu/wp-content/uploads/2015/02/nina-hoppe-wht-2-obg.png
Nina Hoppe
2015-02-15 12:27:08
2015-06-08 12:32:15
POPulism vs. POPArt