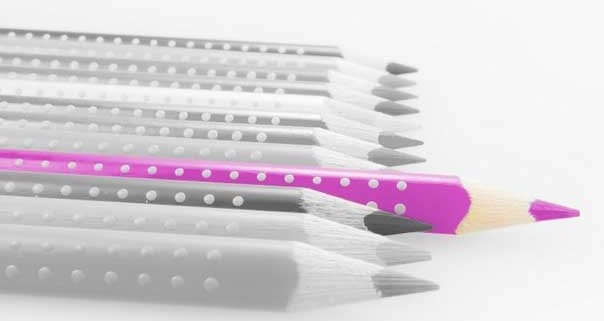 "Katja" – simple, colourful, striking, and with pink (the colour used with success by the NEOS, the New Austria party). This is how the FDP candidate presented herself in Hamburg. As a Man of Politics. The FDP (Free Democratic Party) made a comeback in local government in the liberal north, winning 7% support. It's somewhat reminiscent of the NEOS election success in 2013. Will it be the same in the 11 October elections? Let's analyse the situation.
The successful top candidate is called Katja Suding (her surname almost got forgotten). With her provocative election slogan "Our man for Hamburg", she made it into the city senate. There was palpable relief for FDP leader Christian Lindner. It was one of the final chances to bring liberal values back into everyday political discussion. And it is a tremendous opportunity henceforth to play a role again in the political centre ground. Lindner, an impressively pragmatic logical thinker, has what it takes. While Suding focused attention on the FDP with an election campaign which seemed almost shrill, Lindner endeavoured to support this using sound arguments. Factual reasoning, presented emotively, with some self-criticism and concern, using business experience. His speech in the North Rhine-Westphalia state parliament has meantime become a Youtube hit, and shows the new strength of the FDP: Christian Lindner.
Strolz is not Lindner
The NEOS used a similar tactic for their 2013 entry into Austria's National Council (the lower house of Parliament). Even though they have been campaigning earnestly since then, subsequent electoral successes have not quite ensued. Why? Because, in contrast to the FDP, the party leader is the colourful figure. Matthias Strolz hugs trees, wants "to give children wings" in education and attempts using other "show elements" to create atmosphere. His top candidates fade away alongside him or appear overburdened. The attempt to win points as regards content failed to date despite good attempts at the inability to accurately understand the public mood (keyword: privatisation of water). Unconventional thinkers, such as Niko Alm as spokesman on religious affairs, were "quietened" relatively quickly.
It generally falls to the president of a party to communicate political substance. This is the strength Christian Lindner has compared to Matthias Strolz. Furthermore, Lindner has always been a member of the FDP and, unlike Strolz, did not break with his "mother party" because of missing liberal elements. The liberal policy of Matthias Strolz happened in the VP (Austrian People's Party) under Erhard Busek. It had much in common with the FDP of Hans Dietrich Genscher, which also formed a coalition with the SPD and supported Chancellor Helmut Schmidt.
Since Reinhold Mitterlehner became chairman of the VP, it has been increasingly more difficult for the NEOS to distinguish their content from the heavily emphasised liberal positions of the VP. Sometimes there are even very inconsistent approaches such as, e.g., the new centralised school-leaving assessment system which is to be preceded by increased school autonomy. The NEOS federal party currently appears more like a sister party than a true alternative to the VP.
Is Beate the Man for Vienna?
However, this is not the case for Vienna, and therefore the Vienna election in particular will play a key role for the NEOS in its further development. Much depends here on the division of roles between the top candidate Beate Meinl Reisinger and Matthias Strolz. Here's why: not only are there possibly frustrated VP voters in Vienna, but above all there are the liberal social democrats, who do not want to see the red-green coalition again, and who no longer feel that social democracy properly addresses their interests. A high proportion of voters are owners of small one-person businesses, and this is the opportunity to make lasting gains. Is "Beate" the big opportunity to give the NEOS a liberal voice? Is it possible even to link the liberal voters who vote green at the national level to the NEOS in Vienna? Katja has demonstrated how it is possible to use humour, self-irony and provocation to win points and to gain confidence. However, it is important here that Matthais Strolz quits his actionist course and wins points through factual issues and as a unifying figure of the NEOS.
This should be apparent not only in the Vienna area but above all in the National Council. On a liberal basis which is clearly distinguishable from possible People's Party and Social Democrat positions (!). A breath of liberalism in the Municipal Council would be very welcome for Vienna. It's the right thing in fact for a self-appointed open cosmopolitan city.
Liberalism is a state of mind and not an income group (Graf Otto Lambsdorff)
https://ninahoppe.eu/wp-content/uploads/2015/02/pens.jpg
625
604
Nina Hoppe
https://ninahoppe.eu/wp-content/uploads/2015/02/nina-hoppe-wht-2-obg.png
Nina Hoppe
2015-02-24 17:30:00
2015-05-30 17:30:39
Hamburg-Vienna: the return of liberalism?