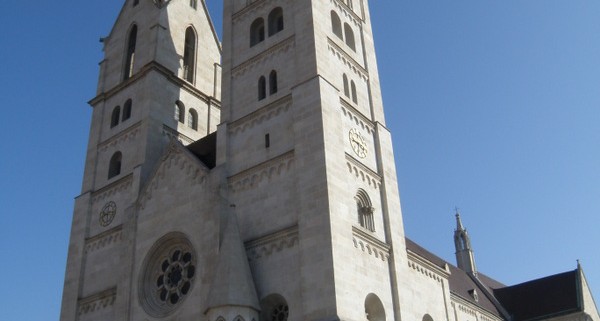 Wiener Neustadt is the second-largest city in Lower Austria. It was the royal seat of Friedrich III (AEIOU), the father of Maximilian I and is also home to the world's oldest military academy (no kidding or oxymoron).
But Wiener Neustadt has never stood out for that reason. It took a supposed breach of taboo for it to hit the headlines. So what exactly happened?

Green with envy and blue in the face
During the city council elections, the SPÖ (Social Democratic Party) lost its mayoral seat to VP (People's Party) candidate Klaus Schneeberger, who immediately announced "a new start for Neustadt" – a working arrangement between Greens and Blues. And the SPÖ found itself in opposition. Everyone involved insisted it was not a coalition. But left-of-centre parties still point – wrongly, in my opinion – to a breach of taboo.
The ÖVP enjoys singular supremacy in Lower Austria. The Greens there are no more left-wing than the FPÖ (Freedom Party) could be described as particularly right-wing. This political landscape cannot be viewed or analysed from a federal government, let alone a Viennese local government perspective (where the prospect of Green and Blue working together would raise more than sweaty palms among the Viennese Greens).
The two parties probably have more in common than they would seem to at first glance:
1) It has never occurred to either party to play any kind of role in Lower Austria at the local body level. So Schneeberger's offer is more akin to a political thunderstorm. Completely unexpectedly, it raises the possibility of a form of political collaboration nobody had predicted.
2) Both the Green and Blue side of this equation have little in common with the image and positioning of their respective federal parties. Everyone knows everyone in a small city like Wiener Neustadt. People know by word of mouth who each person is. The party is of secondary importance there. Even the federal capital with its federal party leaders and whips is miles away and not really involved. In fact, the two sides probably get along better with one another than with the members of their respective federal party. So any support between the two parties is likely to be driven by personality and familiarity rather than ideology.
3) In the National Council too, cooperation or common voting behaviour occurs often enough between Green and Blue. You only have to ask the new opposition parties (NEOS and Team Stronach) how often the "old opposition parties" stonewall to show evidence of their success in the role of opposition and their potential ability to govern.
Green+Blue+Black= Black
This is why I think all the, rather artificial, commotion (a must on Twitter) should give way to rational analysis. And one thing that tends to be overlooked as a result is that the Greens are practically supporting the right hand of Erwin Pröll – which would appear to be the least important element of the whole story.
https://ninahoppe.eu/wp-content/uploads/2015/02/Wiener_Neustädter_Dom.jpg
800
600
Nina Hoppe
https://ninahoppe.eu/wp-content/uploads/2015/02/nina-hoppe-wht-2-obg.png
Nina Hoppe
2015-02-17 08:05:47
2015-06-02 08:06:18
Green-blue coalition in Lower Austria?